Day 1 (July 19-20) of the Imagine Bowen Poker Run will give you a full tour of paradise.
You will receive your first card on Friday the 19th at registration and the briefing party at Australia's best pub, the Grand View Hotel. The next day we take to the water and head straight to Bona Bay to receive your second card. The run will take you to Manta Ray Island then on to Sinclair Bay for card three. This is where it gets interesting, your fourth card will be given to you right in the middle of the Offshore Superboat course! You can then watch all the action from the best seat in the house before heading back to the Grand View Hotel for your fifth card.
Check out the map below for a closer look!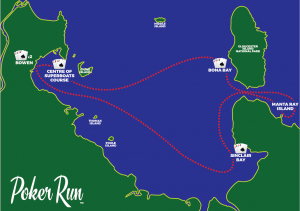 Day 2 (Texas Hold 'em Day)
Day 2 (July 20-21)
Here is the second run of the weekend. It's a simple Texas Hold 'Em style run with only two stops but still offers a great run through Australia's best waters.
You will receive your first card on the Saturday Night after the first run is complete. You're already halfway to getting your hand and it's not even Sunday yet! To get your second card we will be taking you to the picturesque Cape Gloucester Beach Resort, where you can recover from the day before in your very own slice of heaven.
Then we head back to Bowen and in to the Grand View Hotel for the card reveals and winner announcements.
Have a look at the map below!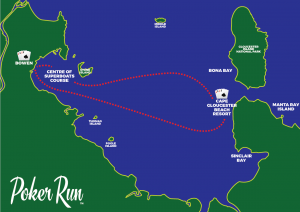 Imagine Bowen Poker RUn Schedule
Here's a breakdown of the how the days will go.
Click below to get your head around the weekend.
Here's a map of Bowen. Have a look at the map to see just how close everything is for the weekend!